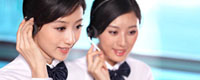 Name: James
Mobile: 0086 18118005219
E-mail: info@moresharesigns.com
Add: No. 868 JingQi Road, Fengxian District, Shanghai, China
Skype: +8618118005219
WeChat: Cindy2018L
whatsapp: 0086 18118005219
QQ: 56273501@qq.com





Product name : ADA Braille Signage

Product No. : 202131511244

Price : $5-$8

Material : Aluminium, Stainless steel, Acrylic

Color : customized

Size : customized

Feature :

Fixing :

Application : directory,wayfinding

Packing :

MOQ :
Details:
What is an ADA Sign?


The term "ADA sign" typically refers to tactile signs used to mark rooms, spaces or features as required and
defined in the Americans with Disabilities Act (ADA). Tactile signs have raised letters and braille.
In addition
to tactile braille signs, the ADA defines and requires numerous other signs, such as handicap parking signs,
elevator signs and signs directing towards accessible features. Lastly, the ADA defines how far out from a wall
or down from a ceiling any fixture may be placed and these guidelines also apply to general signs within a
building.
ADA signs playa critical role in making your facility accessible.With raised pictograms and grade II braille,
our designs fully comply with ADA regulations
Available in architecturally appealing designs, our products are tough, lightweight and easy to install.